Taipei, TAIWAN —
The winners of the 2023 Golden Pin Design Award and Golden Pin Concept Design Award have been announced! This year, both awards received nearly 8,000 entries from 23 countries/regions around the world. After the secondary selection held in mid-September, the "Golden Pin Design Award" selected 552 outstanding works from Taiwan, China, Hong Kong, Macau, Thailand, Japan, Singapore, the United States, Malaysia, South Korea, Lithuania and India, all of which received the Design Mark and qualified for the final selection. On the other hand, the "Golden Pin Concept Design Award" recognized 38 works with 16 of them advancing to the final selection. Proceeding to the next stage, both awards will select the prestigious "Best Design Award" winners, which will be officially revealed at the awards ceremony in December!
This year's two awards held their second and final round of judging in September, marking the first return to offline selection since the pandemic. Over a thousand entries from around the world gathered at the Songshan Cultural and Creative Park in Taipei for this unprecedented event.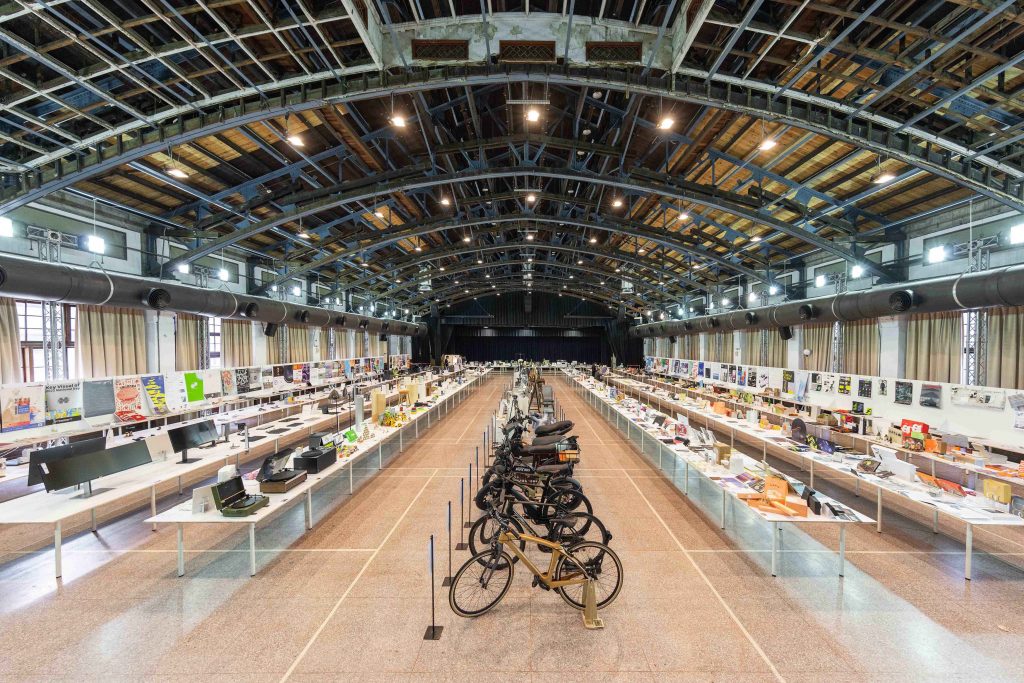 The second selection of the two awards brought together a grand panel of 30 design and creative experts from academia and industry worldwide. The panel included notable figures such as Sarah M. Whiting, Dean and Professor of Architecture at Harvard University Graduate School of Design; Winy Maas, Founding Partner of MVRDV; Chen Yan, General Manager of the User Research and Experience Design Department at Tencent; Vip Buraphadeja, Editor-in-Chief of iconic Thai trend media happening; Keita Suzuki, Creative Director of the renowned Japanese design firm Product Design Center; Shenan Chuang, a veteran advertising professional in Taiwan; and acclaimed Taiwanese designer Joe Fang, Art Director of JOEFANGSTUDIO, and more.
Golden Pin Design Award 2023:
Highlights of Design Mark Recipients
Among the 552 winning entries in this year's Golden Pin Design Award, there were 243 in the Product Design category, 164 in Communication Design, 114 in Spatial Design, and 31 in Integration Design.
1. Pidan Wheeled Pet Carrier (Ventilation Type)
– Category: Product Design
– Country / region: China
– Business Owner / Design Company: Danke Co., Ltd. (China)
The Pidan Wheeled Pet Carrier offers convenience for pet travel. This carrier features shock-absorbing wheels that enhance protection and mobility, making it easier for pets to travel with their owners. It comes equipped with a built-in ventilation system, which can be activated to facilitate efficient air exchange and maintain a fresh interior. Additionally, the carrier's design includes a pet window, interactive door, and a control panel for ventilation and lighting, all arranged in a sleek and compact form.
2. Calzone
– Category: Product Design
– Country / region: South Korea
– Business Owner / Design Company: BDCI (South Korea)
This reusable folding plate draws inspiration from the Italian dish calzone. Like calzone, it is designed to fold in half or be stacked in two. When folded in half, it serves as a container and doubles as a plate. The design team has developed a versatile dishware solution that replaces disposable items such as traditional disposable plates and plastic zipper bags. The glossy inner treatment prevents food stains and simplifies the cleaning process, while the outer surface features a matte texture to provide a softer touch.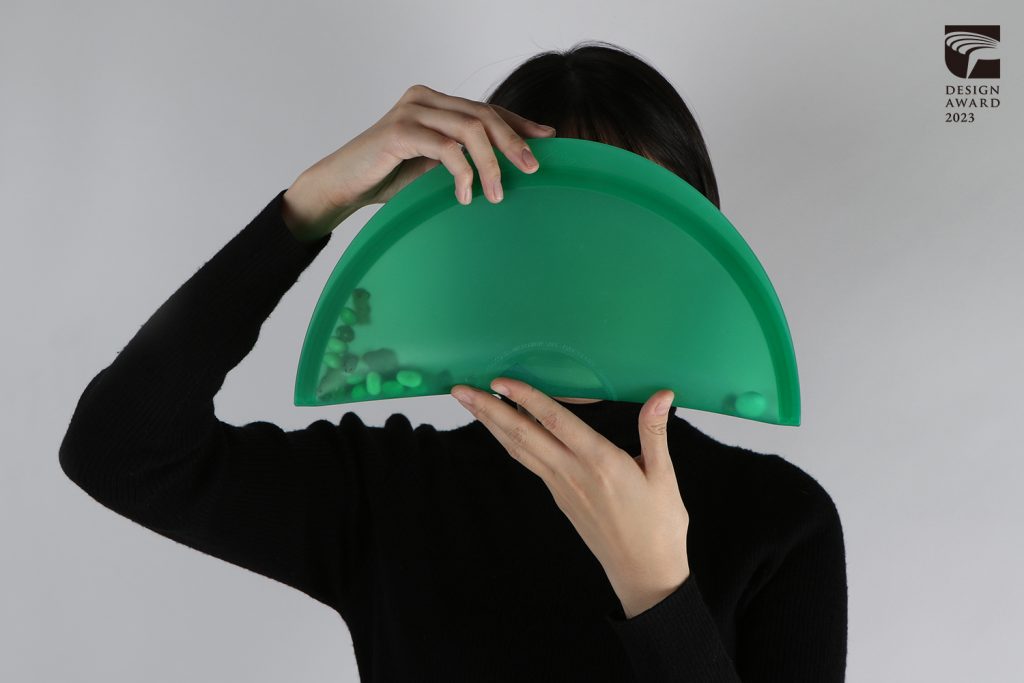 3. Bound Chair
– Category: Product Design
– Country / region: Thailand
– Business Owner / Design Company: MORE (Thailand)
The Bound Chair is conceptualized with interchangeable parts in mind, allowing each element of the chair to be customized according to individual user preferences. The chair features legs, armrests, backrests, and seats crafted from a composite material consisting of plastic and coffee chaff obtained from the coffee roasting process, which is transformed into either coffee rattan or PlasCoff sheets. This innovative approach provides a comprehensive solution that encompasses various possibilities in terms of functionality, aesthetics, and color choices.
4. MOMOKAWA
– Category: Communication Design
– Country / region: Macau
– Business Owner: MOMOKAWA (Macau)
– Design Company: Loksophy Design Ltd. (Macau)
MOMOKAWA is a contemporary coffee bar situated within an aged redevelopment community, embodying the principles of minimalism, Wabi-sabi, and human craftsmanship. Drawing inspiration from Stoicism, the founder aimed to respond to the community's transformations in a serene and deliberate manner.
"MOMOKAWA," the Japanese term for "river flow," symbolizes the transitory nature of coffee, akin to water's impermanence. The brand system employs a singular hand-drawn line consistently, complemented by a minimalist grid system, ensuring a seamless alignment with the brand's concept. Through this approach, every element maintains a sense of restraint, effectively conveying the founder's vision.

5. Humana Theatre Zine
– Category: Communication Design
– Country / region: Malaysia
– Business Owner / Design Company: Humana Studio (Malaysia)
Humana Theatre Zine is a self-published publication that fuses imaginative performance art with graphic illustration. The package includes an admission ticket granting access to the theater show, and its sleeve can be transformed into a mini theater, adding interactivity to the experience. A playbill serves as a guide to the entire theater program, detailing the 16 performances, including titles, choreographers, and performers.
Humana Theatre Zine aims to celebrate performance and art in a fresh and imaginative manner, embracing bold colors and geometric patterns to create a visually rich theater experience. The author aspires to offer an engaging and memorable journey for readers.
6. The Recycling Center in Kaohsiung Municipal Guang Wu Primary School
– Category: Spatial Design
– Country / region: Taiwan
– Business Owner: Kaohsiung Municipal Guang Wu Primary School (Taiwan)
– Design Company: MetaHouse (Taiwan)
The recycling center, a crucial campus public space, suffered from outdated spatial design, resulting in low usability and clutter. This project comprehensively transformed the recycling area, signage, and lighting based on the school's needs. Lightweight, transparent, wave-like walls now re-define the area, seamlessly merging with the landscape. Strategic plantings create an engaging visitor pathway. Effective zoning and mechanisms display the waste collection process, giving everyday items a new purpose. The recycling center, once dim and secluded, is now a vibrant hub symbolizing a sustainable future.
7. NANA Coffee Roasters Bangna
– Category: Spatial Design
– Country / region: Thailand
– Business Owner: NANA Coffee Roasters Bangna Co., Ltd. (Thailand)
– Design Company: IDIN Architects (Thailand)
NANA Coffee Roasters, Bangna Branch aims to elevate the coffee-drinking experience by placing coffee at the center stage. The architectural design seamlessly integrates with the landscape, providing a serene oasis away from the bustling Bangna Trad motorway, where visitors can focus on enjoying high-quality coffee.
This concept blurs the lines between architecture, interior design, and landscaping, prioritizing the visitor's coffee experience over Instagram-worthy aesthetics. The main buildings house the Speed Bar and indoor seating, with abundant plantations connecting and extending outdoors. Simplicity and functionality guide the design, emphasizing the coffee-drinking experience, with an uneven contoured top surface at the main counter to encourage visitors to savor their drinks.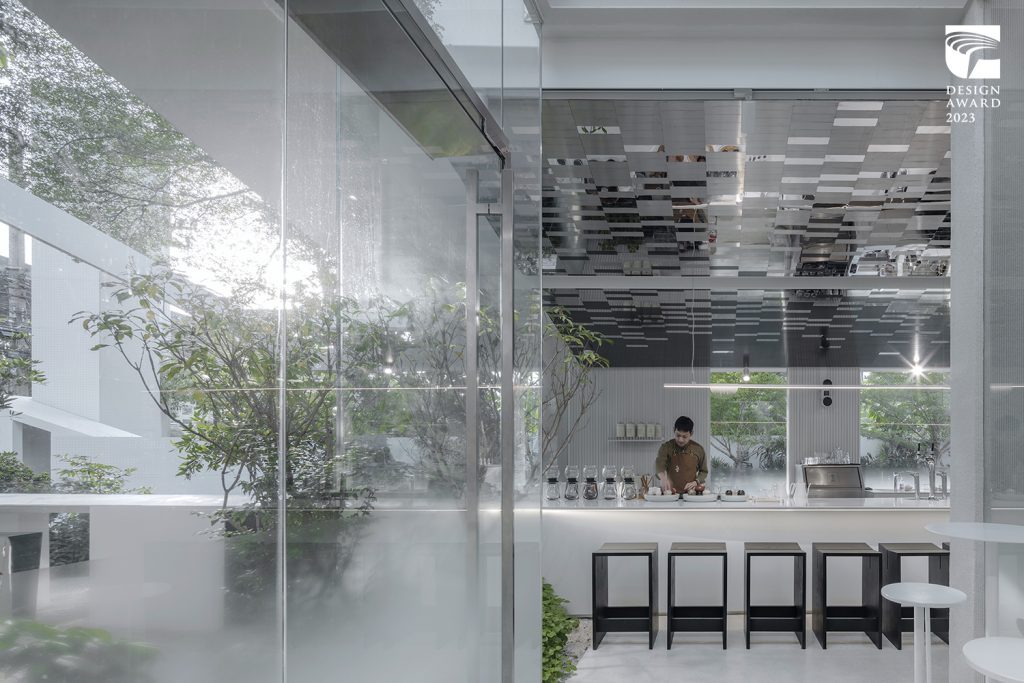 8. TORCH COMMUNITY
– Category: Spatial Design
– Country / region: China
– Business Owner: Dream Home for Dragon TV (China)
– Design Company: PONE Architecture (China)
TORCH COMMUNITY is a public service center located in Panyu, Guangzhou. Its primary goal is to provide a public space for newcomers to the city, allowing them and their families to seamlessly transition into urban community life while experiencing dignity, happiness, and positive energy.
Preserving the original century-old building with its green bricks, tiles, and pitched roof, the design team integrated modern elements such as steel structures, wood frameworks, and glass boxes. This harmonious blend of old and new forms a revitalized community space.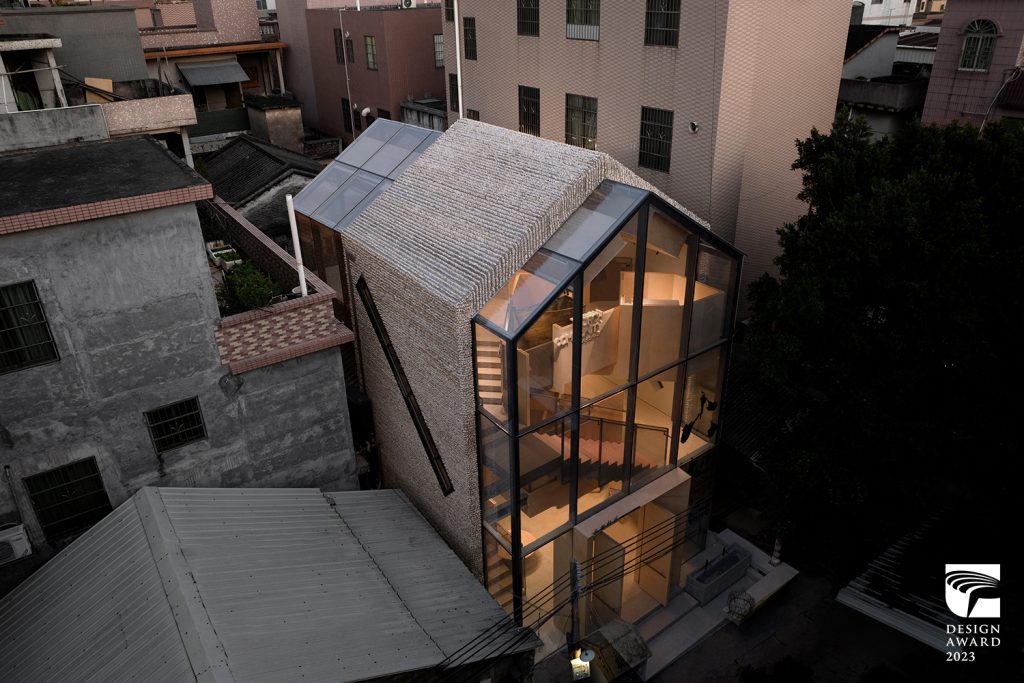 9. Hack Care: Tips and Tricks for a Dementia-Friendly Home
– Category: Integration Design
– Country / region: Singapore
– Business Owner: Lien Foundation (Singapore)
– Design Company: Lekker Architects, Lanzavecchia + Wai (Singapore)
HACK CARE is a visual guide simplifying dementia-friendly home design principles through creative problem-solving, or "hacking." The catalog uses illustrated hacks and prototypes, including inventive uses of IKEA items, to demonstrate practical care principles.
This guidebook also shares stories and interviews with healthcare professionals and caregivers, offering a comprehensive view of dementia care. It promotes adapting and optimizing homes to help individuals with dementia live independently, emphasizing that caregivers are designers too.
GPDA 2023 Second Selection Jury's Comments
First-time international jurors of the Golden Pin Design Award, such as Ken Nah, Professor of Design Management at Hongik University in South Korea, Iceland's Hjalti Karlsson, the co-founder and creative director of top New York-based visual design studio Karlssonwilker, and Japanese designer Keita Suzuki, Creative Director of the Product Design Center, were amazed by the high quality and diversity of this year's entries.
Hong Kong designer Javin Mo, in the communication design category, emphasized the Golden Pin Design Award's significance as a crucial platform for designers in Asia to showcase their works and talents to the world. He also mentioned that many designs created for the public sector in Taiwan performed exceptionally well this year. Even though such projects often come with various constraints, it's still possible to see designers showcasing abundant creativity. This also reflects the trust and importance placed on design by the public sector, leaving a lasting impression on him.
As a juror in the product design category, Manfred Wang, Professor of Design at National Taiwan Normal University, noted that several entries this year underlined ESG (Environmental, Social, and Governance) factors in product development to encompass new applications, materials, eco-friendly components and coatings, and more. Wang underlined emerging trends including carbon footprint reduction and carbon taxation. He expressed hope for increased corporate engagement to address future environmental challenges.
Taiwanese architect Ching-Hwa Chang, a juror in the spatial design category, stated her focus on critical aspects of unique perspectives or interpretations on lifestyle and futuristic ideas that can inspire society or catalyze fresh changes in existing spaces. Shwu-Ting Lee, Vice President of Feng Chia University and Dean of the College of Architecture, spotlighted the global reach of the Golden Pin Design Award by noting entries from various regions in this year's spatial design category. She expressed deep admiration for works from Southeast Asia, as they effectively embraced local cultures, innovatively applied traditional techniques, and displayed creative aesthetics.
Taiwanese designer Chialing Liao, a juror in the integration design category, commented on the remarkable diversity of the entries from corporate exhibit curation to aesthetic education and healthcare. She lauded the expansion of design beyond single objects to different sectors on a systemic level. She also expressed her anticipation for more industry-driven entries in the future, recognizing their potential to have a positive impact on the market and the broader industry ecosystem.
Golden Pin Concept Design Award 2023:
Highlights of Design Mark Recipients
1. Prinx-3D Printed Modular Auxetic Structures Lamp
– Category: Product Design
– Country / region: Taiwan
– Designer(s): Sung-Ai Tsai (Taiwan)
This modular panel design enables precise deformation control and customized sculptural fixtures that has the potential to challenge the conventional business model of mass production and standardization. The utilization of a single material also increases the ease of recycling and repair.
2. MEDISPACE
– Category: Product Design
– Country / region: China
– Design Company: Shenzhen Suosi Design Co., Ltd. (China)
– Designer(s): Yuan Jianshen, Xiao Dingyu & Pan Baiyuan (China)
Tailored for urban residents, this meditation device reduces noise and simulates electronic music with over 10 Tibetan singing bowl sounds. Users can compose unique music by striking metal discs for an uninterrupted and immersive experience.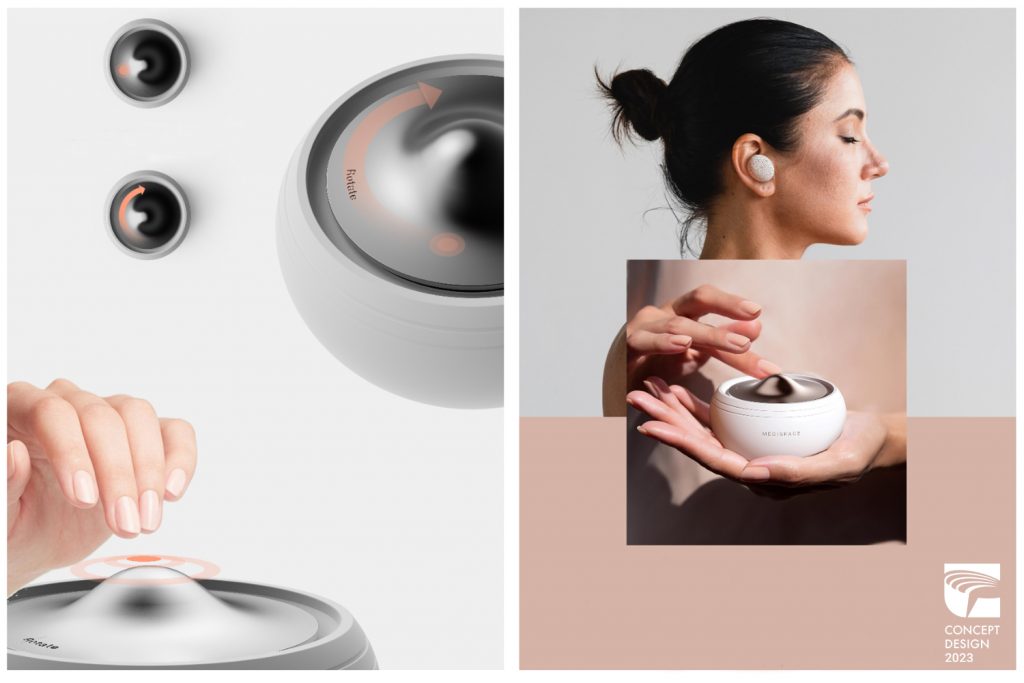 3. Tea Seedling Pots
– Category: Integration Design
– Country / region: Taiwan
– Designer(s): Chen Yu-Ting, Hsueh Kai-Chieh, Lin Zhong-Wei & Kai-Chu Li (Taiwan)
With tea tree branches as the material and a double-layer structure to shield the roots of seedlings, this container not only improves planting efficiency and survival rates but also offers the advantage of full decomposition in soil. This significantly reduces environmental impact and labor costs.
GPCDA 2023 Second Selection Jury's Comments
As the juror for the Product Design category, Cheng-Neng Kuan, Professor of Industrial Design at Shih-Chien University, pointed out that the Golden Pin Concept Design Award serves not only as a platform for encouraging cutting-edge designs but also an great opportunity for the enterprises to showcase their creativity. He also mentioned that exceptional works often delve into less-explored issues, challenging designers to effectively identify problems and propose innovative yet practical solutions.
Japanese product designer Keita Suzuki stressed the importance of identifying pain points from initial ideation to the final draft to clearly articulate key issues, viability, and public resonance. Chinese graphic designer Tiger Pan, a juror for the communication design category, explained that evaluation weighs forward-thinking and pioneering elements more than experiential aspects. He encouraged participants to stay true to the essence of design and their target audience as well as that of preserving creative and innovative expressions.
For the Next: Who Will Claim the Top Honors?
The 2023 Golden Pin Design Award and Golden Pin Concept Design Award are entering the third phase of judging. From the Design Mark recipients who have qualified, the prestigious "Best Design Award" and "Special Annual Award" winners will be selected, with the shortlist set to be announced in early October. The winners of these awards will be officially revealed at the joint awards ceremony for both awards in December! For the latest updates, please stay tuned to the official website and social media accounts.
Follow this link for the list of 2023 Design Mark Recipients
https://www.goldenpin.org.tw/en/download/
---
About the Golden Pin Design Award Group
The annual Golden Pin Design Award is the longest-running international design award that celebrates products or projects expressly created for Chinese-speaking communities, offering entrants an unprecedented opportunity to prove their prowess in the world's largest market. The Golden Pin Design Award Group is executed by the Taiwan Design Research Institute and organized by the Industrial Development Bureau, Ministry of Economic Affairs. The Ministry of Economic Affairs acts in an advisory capacity.
For the latest news on the Golden Pin Design Award, visit:
Official Website: Goldenpin.org.tw
Facebook: GoldenPinDesign
Instagram: GoldenPinDesign
Twitter: GoldenPinDesign
YouTube: GoldenPinDesign
Weibo: GoldenPinDesign
WeChat: 金点设计奖
International Media Enquiries
Golden Pin Design Award Team
Taiwan Design Research Institute (TDRI)