It's evident in all her work that freelance illustrator and designer Soefara Jafney has an affinity for creating strong female characters that look like they're straight out of a comic. Once an art director who had mainly worked in advertising, she's now moved on from that to pursue what she loves and does best. The Sam, Sebbie and Di-Di-Di series of books are her first children's books and since then, she has been working with author David Seow for a number of his own children's books offering her own sense of illustration style to bring out all the characters.
Currently based in Amsterdam, she's focused her attention on using her impressive skill to bring some strong female representation into the industry.
Q: What are your favourite childhood comic books?
A: Wonder Woman by George Perez and Jose Luis Garcia Lopez, and Justice League America by Adam Hughes. This was back when I was too young to buy comic books, but my sister did and was glad she had great taste!
Wonder Woman resonated with me as a young girl because she had such a solid moral compass. She said 'no' to Zeus, King of the Greek Gods when he tried to have a go at her. That to me, at that time, was a revelation; that I could also say no to a person of power or someone much older than I was. Of course, there were consequences which I also learned; for her, it was 'War of the Gods' and for me, curfew. She also had fantastic biceps, which was inspirational to me, too.
There were also other comic such as Archie, Katy Keene, MAD, Gila-Gila, and Beano. Dato' Lat's books, Kampung Boy and Mat Som, still crack me up 'til this day.
Saturday morning cartoons also made a huge impact on me. I'd watch X-Men, She-Ra, He-Man, Jem and The Holograms, Thundercats, Dungeons & Dragons, among others religiously. One feature film animation that blew my mind then was Ramayana: The Legend of Prince Rama. It came out in 1992 and was a collaborative effort between India and Japan on their 40th anniversary of diplomatic relations. This was probably my introduction to how crazy Japanese animation was before I watched Akira and Ghost in the Shell.
Q: Have you always seen yourself as an illustrator?
A: I do believe all kids love to doodle. I mean, who didn't doodle in their textbooks, am I right? It's a universal language and a way of communicating and expressing oneself. I guess I'm one of those kids that never stopped, and not planning to.
I was an art director in advertising agencies for a while and during that time, I found that I missed drawing a lot. So, I would jump on any opportunity to do storyboard drawing and also take on freelance illustration jobs. It wasn't a walk in the park. My day job was from 9am to 8pm and during lunch, I would squeeze in time to meet with clients and get job briefs then continue work at night and before getting in the office in the morning. I wasn't a fulltime employee but I was on a contract basis, so I appreciated that freedom.
After many years of doing this, I think I went through a plateau stage. I would print out illustrations by Walter Crane, Edmund Dulac, and Georges Barbier and stare at them longingly because I wanted to create works such as these but time was not on my side. And then something happened. I was working out when I heard a 'snap' on my right wrist. I later found out I had tendonitis and I couldn't draw for about 4 months. Those were dark times and that was when I knew I had to get out of my situation. So, I quit my day job and started to freelance and haven't looked back since.
I still love doing design work but I'm more selective. Nowadays, I will look out for jobs that require specific expertise and at the same time will help me improve my skills set. At times, when I've just finished illustrating a book (and that takes months, mind you), I think that maybe I need a break from illustrating and could do a layout job instead and then I will instantly wish I could be drawing!
And so, yes, along the years I find that illustrating is that one thing that I'm good at and brings me the most joy.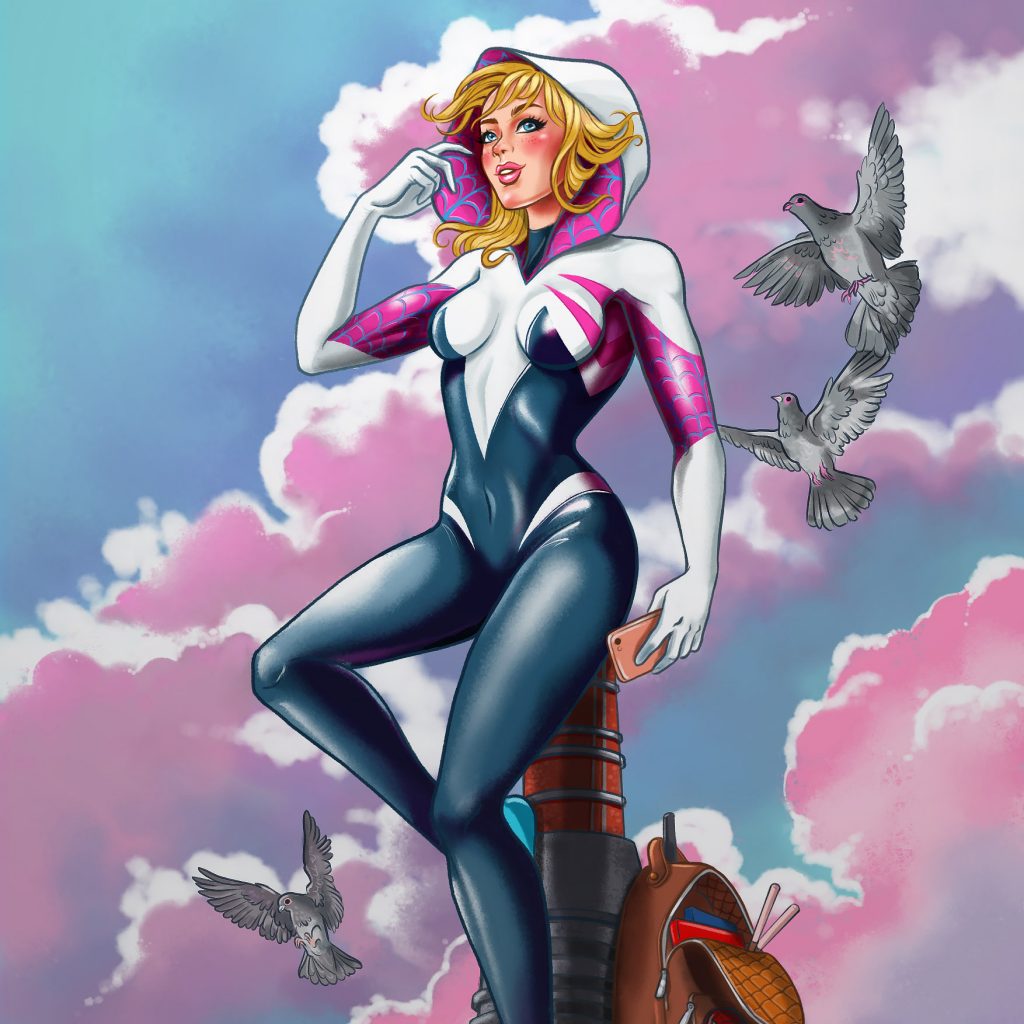 Q: Most of your illustration pieces are of women and female superheroes. What do you think is the importance of strong female representation in the media?
A: Very important, just as important as portraying an old, feeble person or people with disabilities. It's these wonderful varieties in life that need to be represented.
I draw women a lot because I am one and it is somewhat a way of understanding myself; how strong I wish to be, how sensual or insecure I can feel. There are so many nuances that can communicate these emotions; flicks of a finger, an eyebrow raise or side-eye glance.
I have been drawing women since as far back as I can remember. As a kid, I always drew cleavage on them. It's like a finishing touch. However ridiculous it looked, because some of them were way too high and close to the neck! I would also diligently study and copy drawings of Wonder Woman and Jim Lee's X-Men ladies and give them as presents.
In terms of representation, I see more and more complex female characters now, which is fantastic. Series such as GLOW, as much as being an absolute fun to watch, there is also so much depth and growth in all of the characters. Others like Handmaid's Tale, Killing Eve and Jessica Jones also have compelling story arcs. This is because we see more and more women creators, be it writers, producers, or artists. As a woman, it is a great time to live in.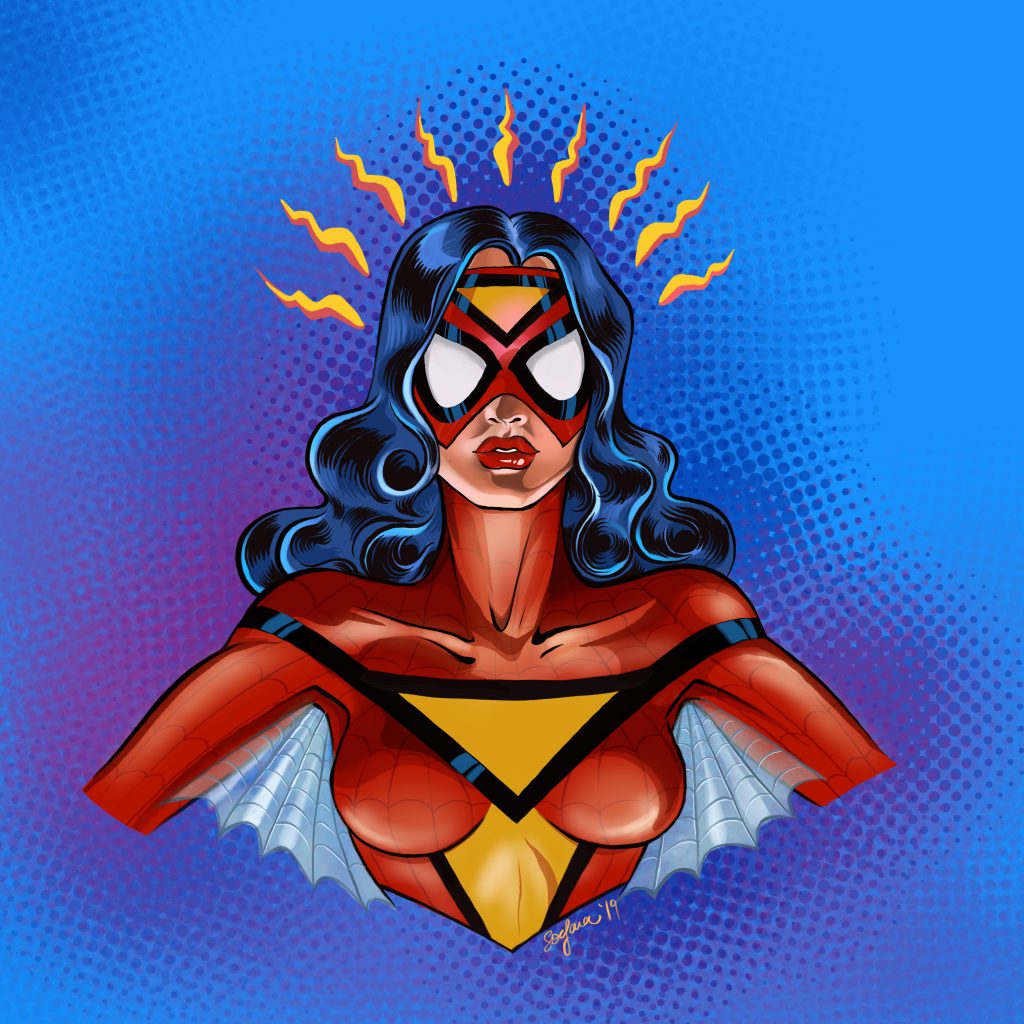 Q: You've had the opportunity to work with David Seow on a number of children's books; the latest release being 'The Royal Pup Pack: Party at the Palace'. Could you share with us how this collaboration came about? And, how long did it take for you to complete the project, from conception to publication?
A: I have worked with David for about six years now and we've done a total of 14 books together so far. Actually, he's the only author I have collaborated with (I should venture out more!). For this book, we also roped in my first editor, Sheri (who is a total sweetheart). I initially worked with the both of them in 2013 on my first picture book; "Night at the Safari" under the "Sam, Sebbie and Di-Di-Di" series, published by Epigram Books. So, coming out with the idea for 'The Royal Pup Pack' came quite naturally. David is a fan of the British Royals, we both love dogs, and this is a story about adopting animals instead of buying them, which I fully support.
Ideas would be passed along the three of us in the beginning and Sheri would set a timeline for all of us. After getting the story, I would start with rough thumbnails to determine the visual flow of the book. At the same time, I will research and sketch out concepts of the characters and locations within the book. In this case a gazillion dogs and the Royals, of course.
Once I'm pretty happy with the rough layouts, I'll proceed to refine my sketches and will determine my colour palette at this stage. The final process of illustration is to chain oneself to the desk and move along with the colouring and final art stage.
For this particular book, David self-published it under his Bonnie Books Publications and we didn't get a designer to help with the book layout, so I designed the book and prepared the files for print as well as the eBook format. It was tedious, but we did it. We started the concept in late 2018 and I submitted the final work in May and the book was finally printed in August 2019.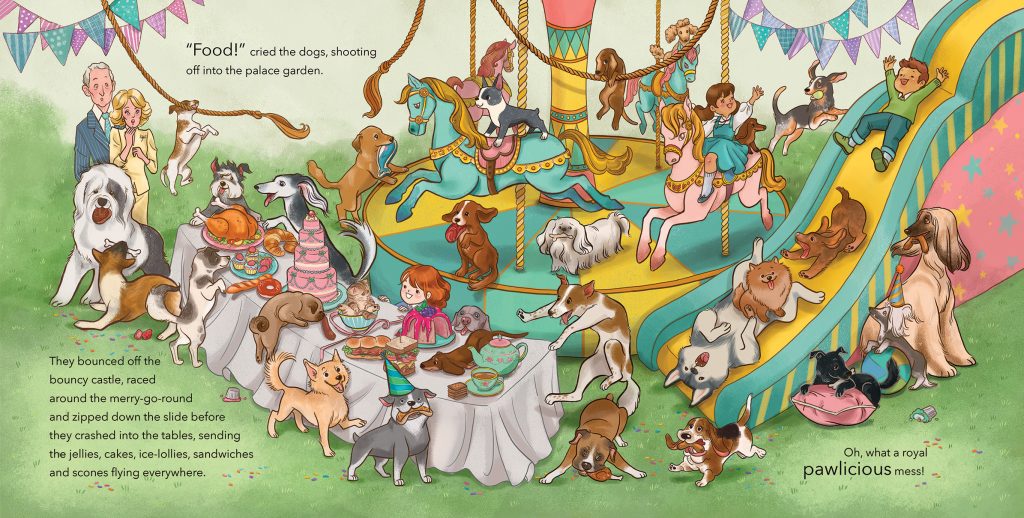 Q: What will you be working on next?
A: Aside from my ongoing design and illustrations for dUCk group, I am currently collaborating with Fit Rebel, an activewear brand for women that specialises in leggings. It's called the Shero series where I illustrate women of great significance throughout the ages.
Cleopatra, Cik Siti Wan Kembang, and Mumtaz Mahal are already on the shelves and I am currently working on the next two releases.
Q: What advice do you have for those who want to turn their passion into a fulltime pursuit?
A: Persist. There is a fine balance between maintaining a lifestyle and pursuing your dreams. It's okay to wonder and experience different things before finding your niche. If you feel compelled to do something, then it can very well be your calling and what you are meant to do. Nothing works better than the truth, so fess up and be who you truly are.
Good things are meant to be shared. 😉 To see more of Soefara's work, check out the links below!
Website: Soefara Jafney
Artstation: Soefara Jafney
Behance: Soefara Jafney
Facebook: Soefara Jafney
Instagram: Soefara
Pinterest: Soefara
LinkedIn: Soefara Jafney