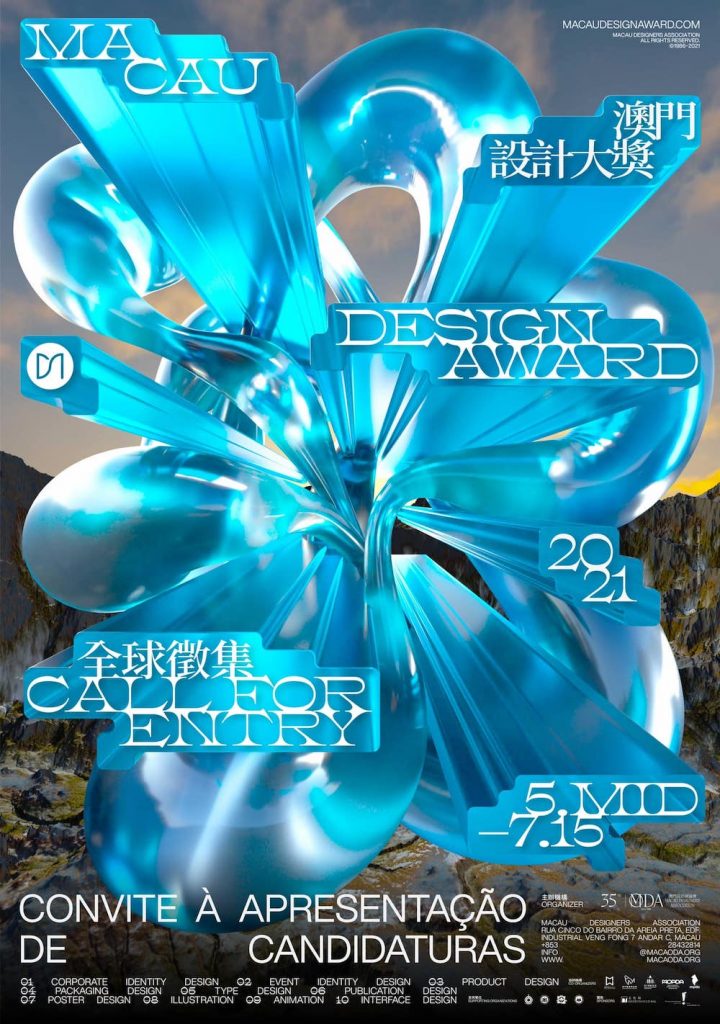 Objectives
Founded by the Macau Designers Association, the Macau Design Biennial has been held for 12 editions. It is a historical and professional design competition seeking to enhance public appreciation towards creativity and design and understand the importance of building a good corporate image for future economic and cultural development. The creativity and practicality of design adds to the inherent value of traditional culture and art, adding value to the cultural and creative industries.
Since 2017, the Macau Design Biennial turned from a cross-strait platform to an international stage that celebrates designs from across the world. From policy to operation, the Biennial has tried many innovations and gradually aligned with international design competitions. In order to bring together the world's new and superior design power to Macau, the Biennial aims to promote not only the local designs from Macau, but to also shift the focus of activities from exhibitions to the competition itself – hence, the Macau Design Biennial will be officially renamed as "Macau Design Award" from now on.
The Macau Design Award will focus on the recognition of designers and customers, the promotion of design concepts, the exchange of regions and other platforms, and continue sticking to its purpose, which is: discover talents in Macau, respond actively to the creative cultural policy from the Macau government, and set up a cultural exchange platform.
Eligibility
Application is open to the public. Designers, design teams, or companies as well as students from all over the world are welcome to participate. For the student group, entrant must be a current student of a design institution with a registration proof. All work must be created and published no earlier than 1 May 2019 and no later than 30 April 2021. There is no theme restriction.
MDA 2021 Exhibition
Selected and winning works will be announced in January 2022.

JUDGES


❚ Thomas Widdershoven & Nikki Gonnissen, Thonik(The Netherlands)
www.thonik.nl
Nikki Gonnissen and Thomas Widdershoven are founders of Thonik. Thonik is a design studio based in Amsterdam, focused on change. The dynamic duo like to empower their clients with a bold visibility. They combine research and experiments to connect online, offline and on site communication. In 2019 Thonik published a monograph 'Why We Design' (in English, available through Lars Müller publishers and in Chinese, available through the Power Station of Art (PSA) in Shanghai). At the PSA, they had an exhibition under the same title that attracted a record-breaking 150,000 visitors.
Thonik did many prize-winning projects in culture, politics and governance, teaming up with clients that reflect their values. At the moment they work on the visual identity of the Museum M+ in Hong Kong, as well as on the communication of the Dutch Design Week in Eindhoven, The Museum Boijmans van Beuningen in Rotterdam, The city of Amsterdam, The University of Amsterdam, and The Holland Festival. Thonik's work is collected by major museums worldwide like the Centre Pompidou in Paris.
Nikki and Thomas are active in design research and education. Nikki was the president of AGI (Alliance Graphique Internationale) and Thomas was the creative director and chair of the Design Academy Eindhoven. He curated four exhibitions at Van Abbemuseum Eindhoven on the current state of design.
Last year, Thonik moved into their new studio; the six-storey building was self-designed and developed. The black and white stripes on the façade refer to the 1968 Mexico Olympics graphics by Lance Wyman.
❚ Kazunari Hattori(Japan)
Born in Tokyo in 1964. Graduated from Tokyo National University of Fine Arts and Music (the present-day Tokyo University of the Arts) in 1988 with a degree in Design. In that year, Kazunari joined Light Publicity Co., Ltd. Since 2001, he has actively worked as an independent graphic designer and art director.
Major Works: Advertisement Director for the Kewpie Corporation and East Japan Railway Company. Conducted art direction for magazines "Mayonaka," "Ryuko Tsushin," and "here and there." Designed logos and visual identities for the Mitsubishi Ichigokan Museum, Tokyo, Niigata City Museum, and Hirosaki Museum of Contemporary Art. Designed exhibition posters and announcements for the Tokyo National Museum of Modern Art, Tokyo, Yokohama Museum of Art, and Tokyo Metropolitan Teien Art Museum. Designed book covers for dictionaries, including the "PETIT ROYAL French-Japanese Dictionary," all published by Obunsha Co., Ltd.
Major Awards: Mainichi Design Award, Tokyo ADC Award, Tokyo ADC Members' Award, Yusaku Kamekura Design Award, Memorial Prize of Hiromu Hara, Tokyo TDC Members' Award, and Tokyo TDC Grand Prix.
❚ Jaemin Lee, studio fnt(Korea)
www.leejaemin.net
Graphic designer Jaemin Lee graduated from Seoul National University and founded studio fnt in 2006. As an art director, he plays a key role in managing the visual aspects of many projects. He took part in several exhibitions such as Korea: Design + Poster (Munich, Germany); Typojanchi 2015: The 4th International Typography Biennale (Seoul, South Korea); Weltformat 15 (Luzern, Switzerland); Korea Now! Craft, Design Fashion and Graphic Design in Korea (Paris, France); and worked with clients like National Museum of Modern and Contemporary Art, Seoul Museum of Art, National Theater of Korea, and Seoul Record Fair Organizing Committee on many cultural events and concerts.
He also teaches Visual Communication Design at University of Seoul. He is a member of AGI (Alliance Graphique Internationale) since 2016 and a full-time dad of two beautiful cats.
❚ Mei Shuzhi, 702 design(Beijing)
In 2010, Mei Shuzhi founded 702design in Beijing and serves as an art director. He looks for freshness and interesting things in life to inspire his next design projects.
Awards: New York ADC 96th Annual Awards Gold Award, Tokyo TDC 2019/2020 TDC Prize, DFA Design for Asia Awards 2019 Grand Award with Special Mention/Gold Award, GDC 2017/2020 Best Awards/Judge's Choice Award, The 9th National Exhibition of Book Design in China Gold Award/Judge's Choice Award, HKDA Global Design Awards 2019 Gold Award, and more.
Originator and co-curated exhibitions: "SUPER PHOTO" exhibition, "Big, or Small" exhibition, and more.
❚ Hong Chong Ip, MO-Design(Macau)
Macao designer and brand consultant Hong Chong Ip founded MO-Design with partner Chao Sio Leong in 2010. With professional and creative merits on branding consultation through visual identity and spatial design, MO-Design is the first Chinese design company invited by Tokyo Type Directors Club (TDC) to be the chief designer of the overall visual identity of the Design Awards held in Tokyo and Osaka in 2010. Hong and Chao have led the company to obtain worldwide honours and awards in Hong Kong, Taiwan, Tokyo, Seoul, Paris, New York, and Chicago.
Since 2012, MO-Design has expanded into various retail disciplines from designer products to fashion in Macao. The lifestyle brand "MOD Design Store" initiates innovative designs while "C" serves as an independent fashion boutique. In 2017, Hong further grew the retail business by establishing "The Grey Green", a three-storey floral concept and lifestyle boutique.
Hong specialises in creative reinterpretation of traditional culture and crafts in a modern way. Together, Hong and Chao often get invited by renowned local and overseas companies and universities to hold workshops, seminars and training courses, all of which have promoted dialogues and bridged cooperation between Macao and international commercial and design industries.
---
Organisers
Macau Designers Association
Co-organisers
Macau Design Centre,
Macau Illustrators Association,
Macau Poster Design Association,
Macao Product Design Association,
Macao Association of Animators
Sponsors
Cultural Affairs Bureau of the Macao S.A.R. Government,

Polytrade Paper Corporation Limited
Supporting Organisations
Macao Polytechnic Institute,

Macau University of Science and Technology,

University of Saint Joseph (Macao),

Beijing Institute of Technology,

Zhuhai
Contact
Macau Designers Association
Rua Cinco do Bairro da Areia Preta, Edf. Industrial Veng Fong 7 Andar C, Macau
Contact: Ms. Wong
Phone: +853 2843 2814
Email: info@macaoDA.org
Website: www.macaoDA.org